Greater Houston Area Health Care Group Takes Home Prizes for Top Company of the Year
FOR IMMEDIATE RELEASE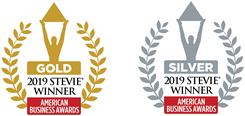 Media Contact: Misty Starks 832-759-2718 misty@3BRG.com
Houston, TX – May 2, 2019 – Sterling Staffing Solutions was named the winner of Gold and Silver Stevie® Awards in the categories of Company of the Year – Business & Professional Services and Company of the Year – Health Products & Services, in the 17th Annual American Business Awards® today.
"Our operational success is a testament to the amazing team of employees and contractors that work for Sterling Staffing Solutions," says Stephen Carter, CEO and partner of Sterling Staffing Solutions. "To be recognized as one of the world's best companies is a complete honor."
"A commitment to community involvement, quality care and exceeding customer expectations have been the keys to our business success", says Sterling Carter, COO and partner of Sterling Staffing Solutions. "We believe that by putting our clients first, we will always succeed."
The judges were blown away by the operational success of Sterling Staffing Solutions stating, "Sterling is firing on all cylinders. Really like the commitment to customers AND the commitment to its community and employees. Its growth is incredible, and I appreciate its risk-taking culture. Nice work!" Judges also noted that Sterling Staffing Solutions "does do a great job with customer service, employee engagement, commitment to community, and has enjoyed good, manageable growth."
More than 3,800 nominations from organizations of all sizes and in virtually every industry were submitted this year for consideration in a wide range of categories, including Startup of the Year, Executive of the Year, Best New Product or Service of the Year, Marketing Campaign of the Year, Live Event of the Year, and App of the Year, among others.
The American Business Awards are the U.S.A.'s premier business awards program. All organizations operating in the U.S.A. are eligible to submit nominations – public and private, for-profit and non-profit, large and small.
Nicknamed the Steviesfor the Greek word meaning "crowned," the awards will be presented to winners at a gala ceremony at the Marriott Marquis Hotel in New York on Tuesday, June 11. Tickets are now on sale.
More than 200 professionals worldwide participated in the judging process to select this year's Stevie Award winners. Details about The American Business Awards and the list of 2019 Stevie winners are available at www.StevieAwards.com/ABA.
About Sterling Staffing Solutions
Sterling Staffing Solutions, headquartered in Sugar Land and founded in 2011, staffs more than 1,000 physical, occupational and speech licensed therapists, nurses and medical social workers throughout Texas and Oklahoma. It won the 2018 Gold Stevie Awards in the category of Minority Owned Business and Veteran Owned Business from The American Business Awards and has been named to the Inc. 2018 5000 list for the third consecutive year. It was a 2018 Black Enterprise Family Business of The Year and won the Greater Houston Black Chamber's 23rd Annual Pinnacle Award. Additionally, it won the Greater Houston Better Business Bureau's 2018 Award of Excellence and the 2018 Pinnacle Award. The business has been featured in local to national publications. For more information, visit SterlingStaffingSolutions.com.
About Dr. Sterling L. Carter and Stephen Levi Carter, MBA
Dr. Sterling Carter and Stephen Levi Carter, MBA are twin entrepreneurs and motivational speakers based in Houston, Texas. Dr. Sterling Carter is a clinical expert with over 20 years of experience as a physical therapist. Stephen Levi Carter, MBA has over two decades of experience in managerial and executive-level positions for a variety of industries, including medical insurance and the oil and gas industry. The brothers founded Sterling Staffing Solutions in 2011, which has grown into a multimillion-dollar company that specializes in providing medical staffing services to home health agencies, hospices, hospitals, and rehab facilities. They collectively founded and operated several companies including Sterling Physical Therapy & Wellness, White Orchid Hospice and MyMedCred.com. The twin entrepreneurs have released an "Amazon Best Seller" book entitled "Double Your Success" on the prestigious ForbesBooks publishing imprint under media giant Forbes Magazine. For more information, visit www.TheCarterBrothers.com.
About the Stevie Awards
Stevie Awards are conferred in seven programs: the Asia-Pacific Stevie Awards, the German Stevie Awards, The American Business Awards®, The International Business Awards®, the Stevie Awards for Women in Business, the Stevie Awards for Great Employers, and the Stevie Awards for Sales & Customer Service. Stevie Awards competitions receive more than 12,000 entries each year from organizations in more than 70 nations. Honoring organizations of all types and sizes and the people behind them, the Stevies recognize outstanding performances in the workplace worldwide. Sponsors of The 2019 American Business Awards include HCL America, John Hancock Financial Services, and SoftPro. Learn more about the Stevie Awards at http://www.StevieAwards.com.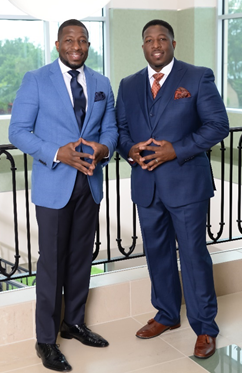 Photo cutline:
Twin brothers Sterling Staffing Solutions CEO and Partner Stephen Levi Carter, MBA (right) and COO and Partner Dr. Sterling L. Carter (left) win two Stevie Awards for Top Company of the Year.